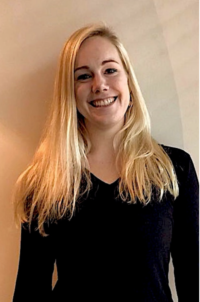 Taylor > Personal Trainer with Focus Athletic, Functional Fitness and Corporate Wellness
Taylor began her career as a fitness professional as a bootcamp instructor at 18 years old. She played competitive junior tennis at national tournaments, and wanted to continue training at a high level. Shortly after starting to teach group exercise, she also earned her personal training and tennis coaching certifications. Taylor has eight years of experience as an American Council on Exercise certified group fitness instructor, five years of experience as a personal trainer and tennis coach, and another two years of experience as a health coach teaching clients how to implement healthy lifestyle changes.
As a former competitive and current recreational athlete, Taylor specializes in agility, balance, and injury prevention for her clients, who range from active marathon participants to busy moms to those overcoming sports injuries. She is passionate about functional movement training using the TRX and bodyweight exercises. Taylor is also a certified barre instructor and likes to incorporate elements of pilates, yoga, and barre into training sessions. Taylor also enjoys working with companies to develop and teach fitness programs that benefit employees and is currently completing her masters with a research focus on Corporate Wellness.
Fitness Specific Qualifications & Experience: American Council on Exercise Personal Trainer, Group Exercise Instructor, Health Coach, Mad Dog Spinning Instructor, TRX Certified Coach, Bender Barre and Dailey Method Certified Instructor, Les Mills BodyPump Instructor, Professional Tennis Registry Instructor, Sky Zone Trampoline Fitness Instructor

Alison > Personal Trainer with Focus Strength, Calisthenics Nutrition, Mobility, Yoga Coach
Being a personal trainer since 2012, I have grown in my approach and learned how to train people in a way that is sustainable, most professional and fun. I believe that we are all different and we need different tools in order to accomplish what we want. A Personal Coach is a very high end solution for all fitness and life goals. I take into account each person's lifestyle, preferences, time and budget in order to make the best possible solution to build a sustainable fitness plan.
I have a holistic approach in which I coach clients how to overcome the obstacles that may be blocking progress. I also include nutrition support in order to give the body the necessary fuel to live the healthiest life possible. My training style is also tailored to meet each person's needs but follows a set structure to measure progress and growth. I work on mobility with all my client's which enables better movement, posture and functioning throughout everyday life. I also focus on building body strength through a mix of calisthenics and weight training. At the end of the training we focus on building flexibility to recover and restore the body so that you feel good after the training.
My background is a BA in psychology with education in pre-nursing. I have also received my Personal trainer certification through the International Sport Science Association, along with other continued training courses in movement and strength.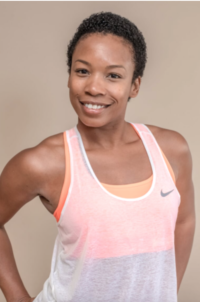 Sahari > Personal Trainer with Focus Athletic, Health and Life Balance
I am Sarahi, certified Personal Trainer and Fitness Trainer. From a very early age, I started in the world of sports, athletics, 100 and 200-meter sprint, which brought me much discipline and technique. Sports and movement are my greatest passion. It seems great to me to have the opportunity to do my passion as my work. I am very motivated and excited to help customers from the right technique to achieve and inspire their goals and help create lasting transformation in their lifestyle. I am a social person, give attention and listen well. I am positive in nature, have a lot of energy, I'm friendly and patient.
In my view, health is a way of life. As a trainer, I want professionally to make my clients aware of a healthier lifestyle. I will train, educate, motivate and inspire them to achieve their goals in small and achievable steps. In addition, fun and result-oriented work are always central during training. I will like to make people in general aware of movement. I will give the best of myself and get the best out of my clients. My goal is to get as many people as possible, whether individual or group.
Quality of life begins with healthy diet, exercise, stress reduction, and the right mindset. This improves the physical and mental condition, with all the positive consequences thereof.

Eva > Personal Trainer, Weights, Functional Training, Body Toning, Nutrition
My name is Eva and I am an IFBB certified Personal Trainer, a Functional Nutritionist and  Fitness Model. I am Champion in the IFBB 2017 Bikini Fitness category. Helping others is my passion and I never anticipated my passion and dedication to fitness would turn into a career. To help others see having a fit lifestyle doesn't mean you have to completely give up things you love, change your entire life or achieve one certain look. I want to motivate others to be healthy, fit and confident by being an example of someone who makes her health a priority while still living a fun balanced life! You can do anything you set your mind to and you really can accomplish all that you strive to do. I am here to help you in your fitness journey. As a Functional Nutritionist and Certified Personal Trainer, I help my clients to learn the importance of fitness and proper nutrition.
Come and Train with me! Based on your level of fitness and goals we will find for you the best way of exercising. I use different training methods to reach the best results based on my client's goals. My workout plans include my own tested training methods. I will teach you how to have a balanced, healthy lifestyle and make Fitness part of it. I am always working for my clients and doing everything to help them in their fitness journey and become more confident, stronger and healthier.
As a Functional Nutritionist, I focus on proper Nutrition and I support my clients to learn their own body and follow a healthy balanced Food schedule. The food is the fuel for your body and whether you are a bodybuilder, an athlete or simply exercising to improve your health –  nutrition is key to see results and make progress and it also affects your performance.
Areas of Expertise: Weight Training, Functional Training, Muscle Sculpting, Fat Burning, Body Toning, Functional Nutrition