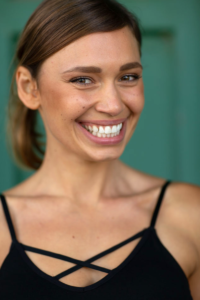 Kristina > Yoga & Balance Coach, Entspannung und Atemübungen 
During my teaching profession studies, I started practicing yoga to compensate for the stressful times. Overwhelmed by the effect of yoga on me and the desire to immerse myself even deeper in yoga practice, I traveled to India several times between 2013 and 2017 and attended various yoga schools and teacher academies.
I have always been passionate about exploring the interrelationships of body, mind and psyche and I remember the incredible WOW moment when I discovered the teachings of Ayurveda for me. I knew, "Yoga and Ayurveda – that's it! That's my way! "There was no turning back.
If your heart's desire is to make you feel fitter, more vital, more powerful, more agile, and more flexible, I'll show you how to strengthen your body by doing the right asanas (physical exercises) and walking through life with more ease. Whether you have never done yoga or are already an experienced yogi, we will design the yoga sessions according to your individual needs and physical goals. Do you sometimes feel stressed and it is difficult for you to relax and let go, so we learn together relaxation techniques that bring your mind to rest and provide you with new strength.
Through various meditation and breathing techniques, not only does our mind become calmer, we also achieve emotional stability, mindfulness and patience, concentration and mental flexibility, better sleep and a strengthened immune system.
"Do not be afraid to shine, the world needs your light!"
So .. Let's shine together!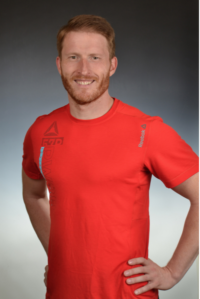 Tino > Personal Trainer, Weight Loss, Functional Training, Flexibility
For me, exercise is the expression of joie de vivre, energy and, above all, quality of life. Through movement we move forward, reach our goals, experience and live. For me, my job as your personal trainer is defined in exactly that. Together with you I will improve your quality of life and give pleasure in new movement patterns. No matter for what reason you will train with me. You want to reduce your weight, increase your flexibility, be faster and more efficient, treat acute restrictions or become more attractive and athletic, then we should get to know each other and exchange ideas about your goals and wishes. Then I bring you effectively to your individual top form. Thanks to my numerous training courses, I can accompany you optimally on your way and offer you the best possible care.