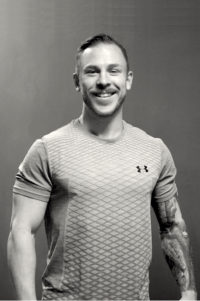 David > Personal Trainer focusing on strength, functional training, nutrition coaching, rehabilitation and mobility
With passion and experience to your personal success !!!   As your Personal Trainer I would like to implement and achieve your goals and wishes with a holistic training concept, a 10-year professional experience in the field of profound fitness training and your own engagement for fitness sports. Whether it is about the right balance to the professional and stressful everyday life, optimal rehabilitation and recovery after injury or the desire for a better look and a healthier life is there – with my positive, humorous and motivational way, I want to help my customers to bring lots of enjoyment and fun in training to quick successes and pave the way to a more active lifestyle and to improve the performance in work and everyday life.
Offer: Muscle Building and Strength Training, Nutrition Coaching, Functional Training, Triggerpoint Therapy, Mobility Training, HIIT, Small Group Training with TRX
Qualification: Bachelor of Arts in Fitness Economics (DHfPG), Personal Trainer and Nutritionist (DHfPG), TRX Suspension Trainer, R1 Sports Club Academy Movement Professional Training (Functional Training) – Triggerpoint Therapy (Myofascial Release)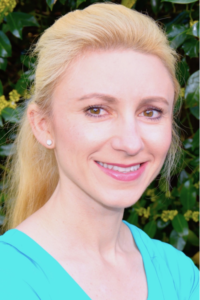 Nadiia > Yoga Coach PRO, Personal Trainerin, Life Balance Expert, Coordinator Corporate Fitness and New Clients, Consulting
A strong body and a clear mind are very important for a balanced life nowadays. As a yoga instructor and personal trainer, I combine the right components that will help you keep your body and mind fit and relaxed to create the basis for a strong and harmonious life. My yoga started 12 years ago. Out of interest in the philosophy of India I learned to meditate and started actively with yoga practice. The love of movement became a great passion and part of my daily life. The fascination of the immediately noticeable effects of yoga characterize my lessons, seminars and workshops. I work with the different meditation and breathing techniques and the following yoga styles: Ashtanga, Vinyasa and Yin Yoga. For more power workout you also have the opportunity to choose a combination of yoga and functional training (eg with TRX).
More and more people are opting for a purely plant-based diet for health or ethical reasons. Since the beginning of my yoga life I have turned to the vegan / vegetarian way of life. If you are interested, I can also accompany you on the way to a holistic diet and advise. I am a Certified Yoga Teacher (Yoga Alliance) and licensed Personal Trainer. There are also additional licenses in the field of fitness, functional training, nutritional advice.
Offer: personal training, yoga for beginners and advanced students in Munich, relaxation and meditation classes, functional training, vegetarian / vegan nutritional advice, back training, holistic weight loss.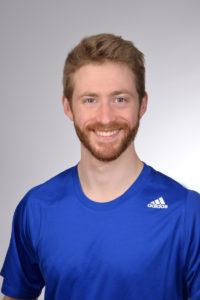 Matthias > Personal Trainer with focus athletic, strength, functional training, cardio fitness, rehabilitation and kettlebell
Maximum results in minimum time. Everyone is different, with unique needs and goals. Whether you want to transform your body or take your health into your own hands, no matter where you start from, I'll be with you every step of the way. So invest in yourself and start.
Personal Trainer Schwabing, Bogenhausen, Nymphenburg, Grünwald & Trudering / Munich East
Qualifications: Studies in sports science, fitness trainer B license, functional movement expert, high performance & sports physiology certificates, massage therapist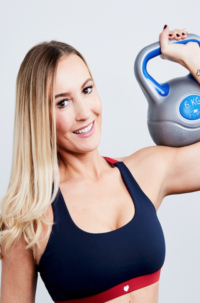 Katharina > Personal Training, Shaping after Pregnancy, Strengthening, Functional Training
Your body is your temple! Only those who feel good in it radiate this attitude to life. I help you to find this balance in the stressful everyday life. Together we realize your individual goals. Whether weight reduction, muscle building or targeted body shaping. From functional training with your own body weight, TRX or kettlebells to strength training with weights. Among other areas, I support women after pregnancy, who want to get back to their well-being form. Here is a special training necessary to strengthen among others, the pelvic floor and the back specifically. Since I'm the mom of a little boy myself, I know the challenges and share my experiences and expertise. My training approach is holistic and adapted to the needs and everyday situations.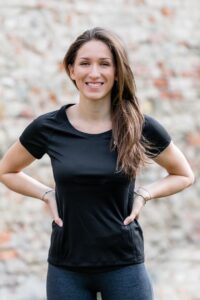 Alessia > Personal Trainer and former ballet dancer with focus functional and mobility training, yoga, nutritional advice, mental coaching and alternative healing methods
As a Holistic Fitness & Health Coach, I would like to support YOU in integrating a healthy lifestyle into your everyday life. "Life is tough. Get a helmet! Is my motto and means take your luck in hand and get the support you need to achieve your goals, master challenges and live the life that makes you happy!
Functional and mobility training, yoga, nutritional advice, mental coaching and alternative healing methods form the 5 pillars on which my holistic approach is based. In my coaching, the much too often neglected, individual needs of a person are brought to the fore again in order to be able to restore the balance between body and mind. Perhaps just when the inner resistance is about to take over again or the rise that lies in front of you seems insurmountable, I will accompany you in achieving your small and large goals despite all the adversities.
No more excuses, because the more consistently we maintain a healthy lifestyle and have our inner resistance under control, the better we feel and can deal with the daily challenges of life more relaxed. YOU are your important project and starting is half the way to success. So, what are you waiting for? Happy body. Happy mind. Happy life. I'm already looking forward to getting to know you and starting your Coaching.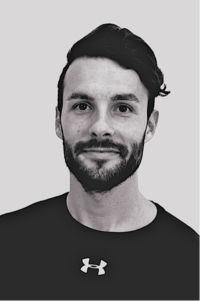 Roberto > Personal Trainer, Tac Fit, Nutritional Counseling, Functional Training, Weight Loss, Pilates, Healthy Back, Ball Sports

Achieving goals, overcoming boundaries and developing a positive body awareness – that is what I can convey to you thanks to my experience and enthusiasm in my work as a coach. In Italian, one would say "growing up with bread and sport" (swimming, football, volleyball, tennis, surfing, bouldering), then I have expanded my knowledge through a master's degree at the Foro Italico in Rome and further education in functional training Range, Pilates, back exercises and Tacfit rounded and thus the professionalism in dealing with sports and fitness coaching achieved.

With this, I can offer you a new and innovative experience that will rekindle the natural movement of the body and its beauty. Through Body Weight Exercise, but also with the help of sport equipment like Kettlebells, Indian Clubbells, TRX, Sandbags, Olympic Rings, Parallettes, the Tetraband or the Swiss Ball, we will achieve your goals together (weight reduction, muscle building, toning). And always with a lot of dedication, commitment, a big smile and of course a special nutrition plan!
Offer: Personal Training, Group Training (Outdoor Boot Camp Training, Core Training, TRX, Functional Training, Flow Training).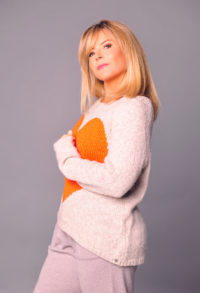 Monica > Personal Trainer, Pilates, Lady Fit, Core, Barre, Functional, Healthy Back, Ski, Relaxation
My life motto: Everything is movement, without movement, everything is nothing! There is a solution for everything, be active! Even as a child I was fascinated by movement with music, in artistic gymnastics as a competitive athlete in combination with ballet and jazz dance, which was part of my training. After graduation I completed a sports study at the Technical University of Munich, with the degree "sports teacher".
During my sports studies I started to work as a group fitness instructor and personal trainer in various gyms, teaching the following courses: Latino Dance Fatburner, BBPR (abdominal-leg-buttocks), Core Workout, Pilates, Barretraining, Functional Training, Healthy Back, Gymnastics and Pelvic Floor Training, Brazil Workout, div. Relaxation methods and Anti-stress training (muscle relaxation Jacobsen, AT, fantasy journey), Breath and Relaxation Courses, Inline Skating, Alpine Skiing and Nordic walking.
I like to train with you to achieve your sports goals with lots of fun and a lightness. Maybe you might wonder how fast your body and soul change positively. I'll help you out of the comfort zone, because 'Life happens out of the comfort zone'. I have a small private studio in Grünwald and various fitness club options, also like home visits or outdoor training to the location. In addition, I am working at the Suvretta Ski School in St. Moritz for the winter times if you would like to improve your technique always welcome. Language: german, english, french.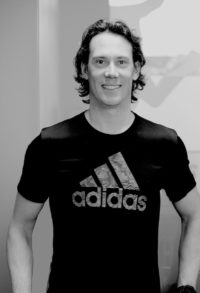 Koen > Personal Trainer with Focus Functional Training, Weight Loss, Running, Strength, Balance, Health, Stand Up Paddling, Boarder Workout
The enthusiasm for sport was practically born in my cradle. As a Belgian, I've always had a great passion for road cycling and basketball. It was clear to me early that I wanted to turn my hobby into a profession. That's why I graduated with a diploma in physical activity and sports science and moved to the Canary Islands, where I spent a total of 4 years in the tourism & sports sector. There I discovered my love for water sports. Especially surfing and stand up paddling became a daily part of my life.
It was also in the Canary Islands, where I met my wife, so I accompanied her to my new home Munich. In the Bavarian metropolis, I then completed my training as a fitness trainer (B license) and personal trainer (A license) and worked from now on in high class Fitness Clubs as a Personal Trainer and did Fitness Programs for corporate clients. Fun and motivation in training are an important part of my training to achieve your goals.
After various marathons and mountain races I absolved (including Transalpine Run), I am always drawn to the mountains with my customers to combine the fresh air and the great outdoors into the training sessions. My focus is on functional training, running training, weight loss, balance, flexibility, post-injury training, stand up paddling (individually or in groups), boarder workout (preparation for skiing, snowboarding, surfing, etc.).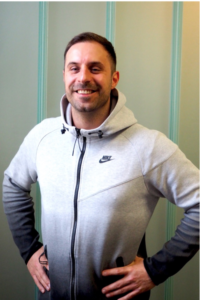 Arthur > Personal Trainer with focus on strength, health, weight loss, healthy back, functional training
As a personal trainer, it is particularly important to me to respond to your individual needs. I see myself as a coach who accompanies you on your way and makes you strong in all situations. For me, the joy of movement comes first. Through goal-oriented and varied workouts I help you to motivate yourself to step out of your comfort zone. Due to my university education and several years of experience, I have a very extensive background and a lot of motivation to accompany you in training and realize your individual goals.
Do you have physical issues, back pain or tension? Through my work in various premium gyms, I am always up to date on health / fitness trends and strength training. Be it muscle building, weight reduction or vital training. I would like to support you become healthier, stronger, athletic and capable. Sport is more than just exercise. The physical fitness also helps you to master mental everyday situations better. My enthusiasm is the functional training with your own body weight and small appliances. We train where it's best for you: in the studio, at home or outdoors.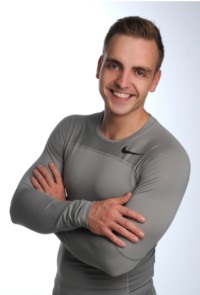 Konstantin > Personal Trainer with Focus Health, Shaping, Back Training, Nutrition Coach, Naturopaths, Massages
For me personal training means more than isolated strength training, endurance training or mental fitness training. It's about finding the perfect balance for you and accompanying you to your goals with great fun as well as "motivational factor"! With fun and motivation in sport can you be successful in your private as well as professional life and bring your health to top level. As a personal trainer in the Munich area, I work with several renowned gyms and health centers. During my professional career I gained a lot of experience in fitness studios and physiotherapeutic practices. The focus of my work is on preventive and functional fitness training. In order to be able to offer holistic coaching in addition to the personal training, I completed a training as a non-medical practitioner.
Qualification: Personal Trainer BSA, Fitnessfachwirt IHK, Fitnessfachwirt BSA, Naturopath Certification Level: Fitness trainer A-license, fitness instructor, fitness manager, trainer for strength training, sports rehabilitation coach, cardio fitness instructor, nutritionist B license, sports nutrition advisor, health trainer, competitive body trainer, TRX training , Functional Training: Basic, Soft Tools- Medical Tools, Assesement u. Corrections, Programming, Athletic Treatments: classic massage, sports, wellness, back, shoulder / neck massage, taping, triggerpoint therapy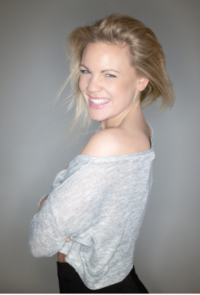 Linda > Personal Trainer, Pilates, Healthy Back, Abs & Legs, BBP, Lady Fitness, Motivation Coaching
Several years ago, I decided to pursue my passion. It is my heartfelt concern to accompany and advance people for a healthy lifestyle, fun and passion in combination with sports and motivation coaching. I love to teach my group lessons out of pure joy and take a lot of time for great personal training session and coaching with my clients. My philosophy of life is: Fitness and Pilates training combined with balanced eating habits, far from diets, prohibitions and constraints. I look forward to hearing from you and our first "get to know", in which we find out which training option is the best way to achieve your defined goals.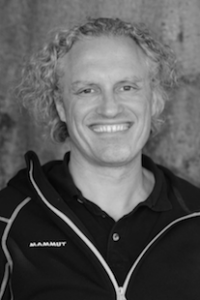 Dietmar > Running technique and marathon preparation, triathlon, climbing, swimming, tennis, team development coach
Sport is more than pure exercise and muscle power. Sport makes it possible for metabolism, hormones and energy to flow in equilibrium. A varied workout with a great dose of fun helps you to grow beyond yourself. I am happy to support you – motivated by my many years of experience and joyful nature – to achieve your sporting goals and desires. Approaches from mental coaching promote motivation. My holistic approach also makes it possible, beyond the sport, to provide a mental and physical balance.
Own sports: triathlon, tennis, sport climbing and alpine, running technique and marathon preparation, burnout prevention, triathlon, tennis, climbing, swimming (Iron Man Frankfurt, Braveheart Battle, ascent Himalayas and Kilimanjaro), Team Development Coach Offer: Running technique and marathon preparation, burnout prevention, triathlon, tennis, climbing, swimming